Governor and SAI meets Japanese ambassador and highlights the importance of strengthening bonds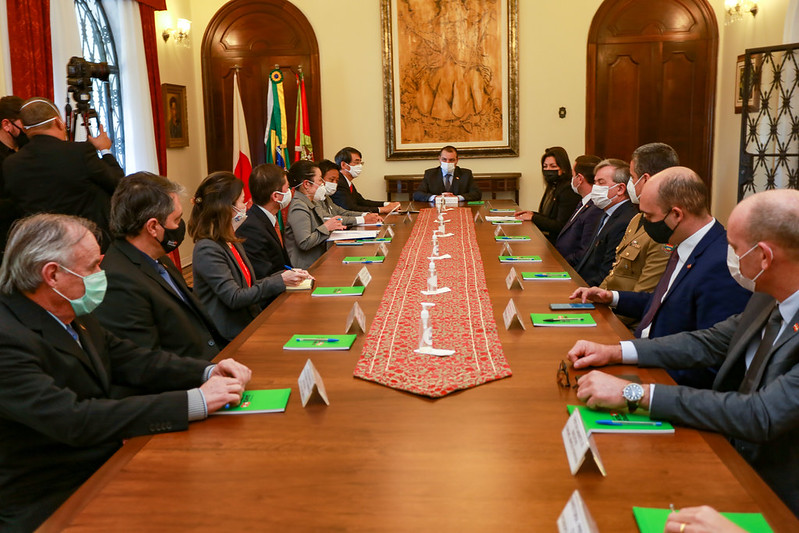 Governor Carlos Moisés and the International Affairs Office (SAI) have met Japanese ambassador Akira Yamada at the D'Agronômica House, in Florianopolis, in early August. The meeting, which was preceded by military honors, the Chief of the State's Executive Power (Executive Branch) stressed the importance of strengthening governmental relationships and the broadening of opportunities between Santa Catarina and Japan, aside from the partnerships already signed through the Agency of International Cooperation of Japan (JICA) and Casan, with investments that will help boost the State's economical and sustainable development.
"For Santa Catarina, having the Japanese in our lands is fundamental, as they cooperate with agribusiness, technology and innovation in all areas. They bring from Japanese culture, which suits our state very well, the model of small properties. The strengthening of relations helps us to advance in various segments, such as infrastructure with new investments, as well as fostering exports and strengthening ties between the entire community in the country and those who want to invest here", said the governor.
Carlos Moisés also presented the advances obtained in Santa Catarina's public administration since the beginning of the current administration, with the payment of debts, revision of contracts and reduction of the public machinery. "The efficient management of accounts now allows the State Government to invest with the Santa Catarina's own resources in priority areas, such as infrastructure. With that, we will guarantee conditions for new investments. We are open to new partnerships to deliver the best to Santa Catarina."
Ambassador Akira, who is visiting the State for the first time, praised the potential of Santa Catarina and the work being carried out. "It is a very important State for Japan. We have many spaces to further expand cooperation and friendship. I hope that the commercial and cultural exchange is increasingly strengthened."
"We celebrate concrete results of good relations with the country, showing that the State has much to gain from its internationalization", pointed out the executive secretary for International Affairs, Daniella Abreu.
The meeting was also attended by the first lady, Késia Martins da Silva, the head of the Civil House, Eron Giordani, the governor's chief of staff, Colonel Marcio Ferreira, the secretaries of State for Finance, Paulo Eli, for Infrastructure and Mobility, Thiago Augusto Vieira, and from Health, André Motta Ribeiro, the president of Casan, Roberta Maas dos Anjos, the assistant secretary for Sustainable Economic Development, Jairo Luiz Sartoretto, and the executive secretary of the Military House, Colonel André Alves, in addition to the assistant consul general from Japan in Curitiba, Kazuu Wakaeda, the Advisor to the Consulate General of Japan in Curitiba, Kumico Abe, the Chief Representative of JICA in Brazil, Masayuki Eguchi, and the JICA Project Coordinator, Eri Taniguchi.