Governor Carlos Moisés and US Ambassador sign a Memorandum of Understanding to expand partnerships in key fields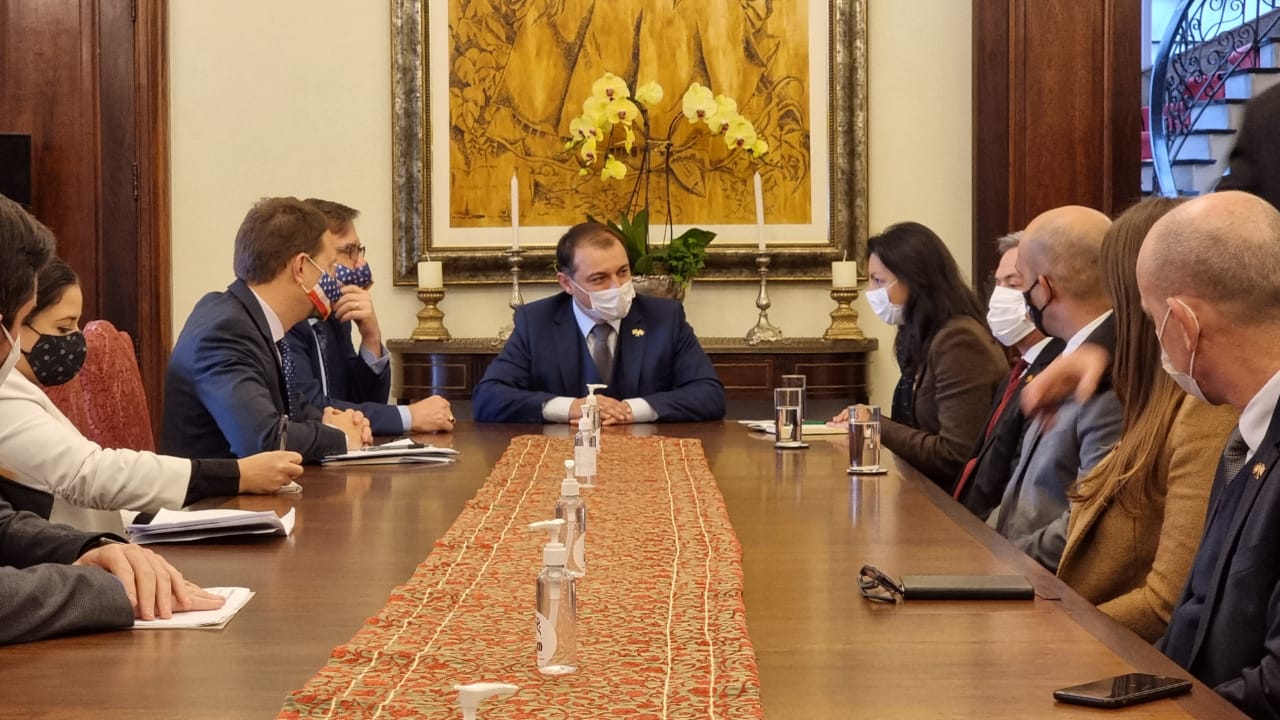 Governor Carlos Moisés signed a Memorandum of Understanding with the US Embassy in Brazil this Monday, 28, in Florianópolis. The Memorandum accounts for partnerships in the fields of commerce and investment; health, science and technology; environment; agriculture; education; and human rights. Furthermore, the document also cites best practices in solving administrative and public safety problems, setting goals, parameters, results and exchange.
The head of the State Executive, who received US Ambassador Todd C. Chapman with military honours, presented Santa Catarina's potential, entrepreneurship capability and the advances achieved in the State's public management since the beginning of his term.
"Our State is small in territory, but giant in economic strength and quality of life. While the entire world saw a fall in its exports and commerce, Santa Catarina managed to grow in a remarkable way. The USA are great partners. (The signing of) this agreement is a historical moment that will create new opportunities, improve future projects and bring forth great benefits to our society, which expects the best outcomes of our actions." Said Governor Moisés.
The agreement has a foreseen deadline of 31 of December 2022 and may be extended. During this period, the involved departments will accomplish technical studies in each topic of the agreement, and if they reach mutual understanding, new specific agreements will be signed for a more comprehensive cooperation. The USA and Santa Catarina may compromise with the exchange of specialists and the promotion of technical visits. This is the second Memorandum of Intentions signed by Governor Carlos Moisés, the first one being in 2020, with Germany.
"The major export in the American economy is intellectual property, our knowledge, our innovations. Santa Catarina is an example of this. Based in its technologies and entrepreneur spirit, it is one of the richest States in Brazil, and we want to be part of this history by strengthening our bonds." Said Ambassador Todd Chapman.
Foreign Affairs Office's (SAI) secretary, Daniella Abreu, stressed that the memorandum represents a milestone in relations between Santa Catarina and the US. "It is a pleasure to be able to sign this document in the same week that I complete one year in the government. We are working in this Memorandum since August 2020, and this is the result. International Relations is a work of consistency, patience and determination that can bear extraordinary fruits."
The Secretaries Paulo Eli, of Treasury; Luciano Buligon, of Economic Development; Naiara Augusto, of Integrity and Governance; Thiago Vieira, of Infrastructure and Mobility; Deputy Ricardo Miotto, of Agriculture, Fishing and Rural Development; Head of Military House André Alves; Head of the Governor's Office, Marcio Ferreira; USA General Consul Shane Christensen; and others also attended the signature of the Memorandum.
After the signing of the document, Secretary Daniella Abreu accompanied Ambassador Todd Chapman, Consul Shane Christensen and entourage in visits and meetings at the Santa Catarina Technology Association (ACATE), to discuss areas of cooperation and technological development; and at Sapiens Parque, on technology and innovation and environmental technology with President Daniel Leipnitz.
In the early morning, they also met with representatives of Fiesc, Sistema Faesc/Senar-SC, Fecomércio/SC and Sebrae/SC.
With information: Elisabety Borghelotti/Secom
Photo: Peterson Paul/Secom